boutique hotel, kinsterna hotel
Discover our country chic hotel in Peloponnese, a 18th-century Byzantine estate, set in the countryside splendor of Agios Stefanos, overlooking the mythical rock city of Monemvasia. A boutique hotel in Peloponnese where serenity, authentic hospitality, luxury, and wellness await you. Kinsterna Hotel comprises 52 rooms, including 19 suites and one pool villa.
A Country-chic Hotel Nestled On 25 Acres of Private Land
This charming and elegant 18th-century mansion, cleverly transformed into a 5-star boutique hotel in Peloponnese, is a historic luxury hotel, for adults and families who seek a rich and unparalleled holiday experience. Kinsterna was immaculately restored to preserve the charm and authenticity of the historic estate, with its dome ceilings, bare stone walls, and Ottoman fireplaces. Harmonious spaces ensure total relaxation and wellness. Spacious rooms with wood-burning fireplaces, and en-suite bathrooms, each suite distinctively inviting and exquisitely designed, with flawless finishing touches and cutting-edge, modern-day amenities. All of the rooms enjoy heart-stirring views of the hills and valley, vineyards, olive groves, the sea, and or lush estate gardens.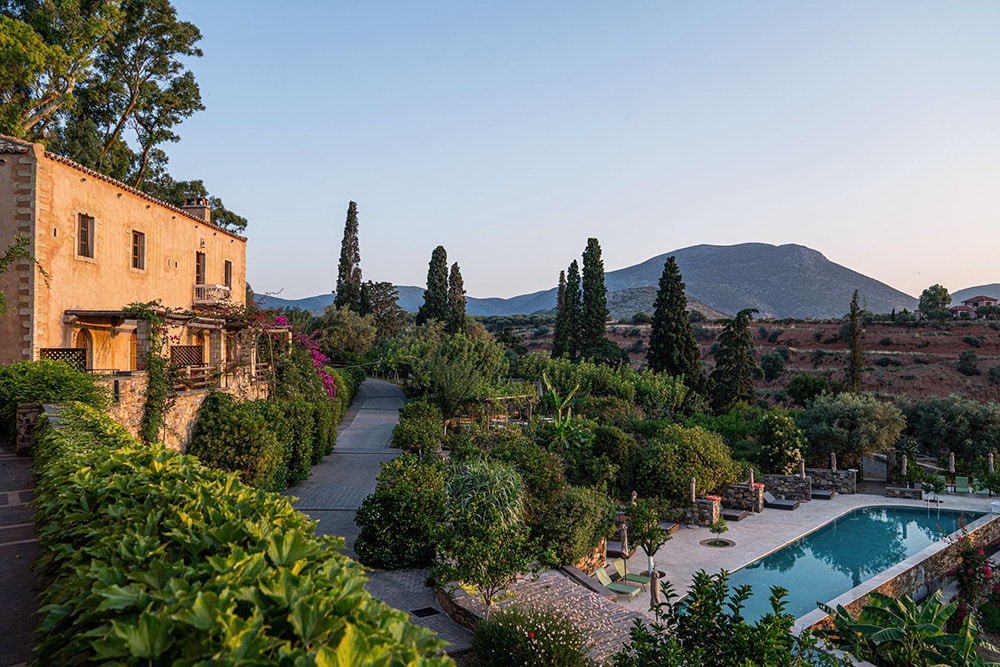 Kinsterna Boutique Hotel In Peloponnese Where Luxury Meets Nature, Tradition and Wellness
The hotel's surrounding fertile gardens host vineyards, fruit trees, perennial olive trees, century-old eucalyptus, and an ancient orange grove that produces the acclaimed oranges of Monemvasia.With roots in the Byzantine, Ottoman, and Venetian eras, immersed in olive groves, vineyards, and citrus orchards, Kinsterna produces its own oil, wine, and honey.
This boutique hotel in Peloponnese embodies country-chic in its own unique way and is the perfect place to indulge and awaken your senses.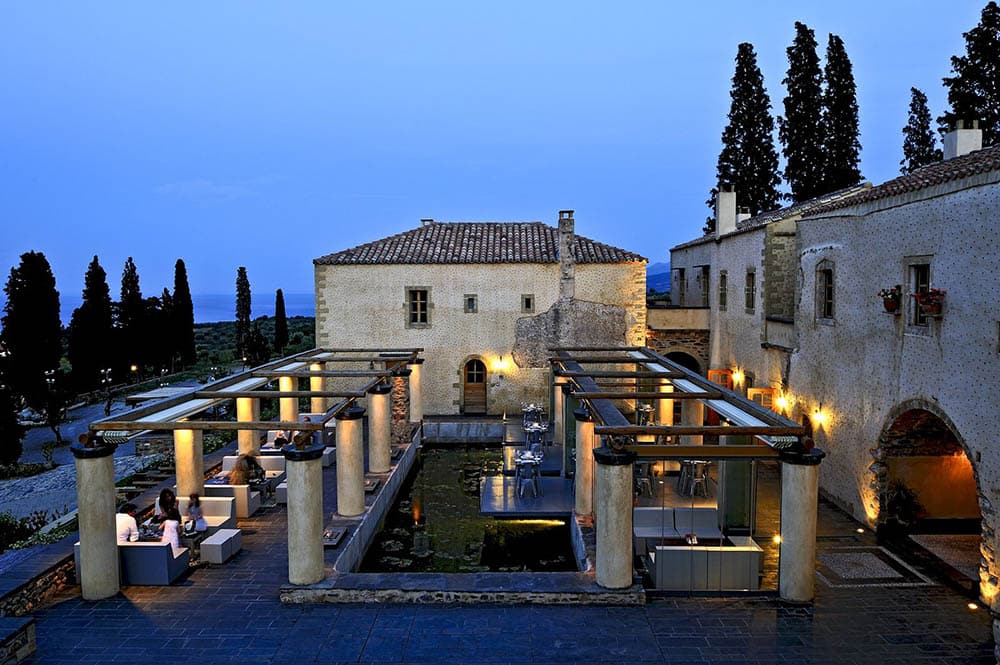 Experience Mediterranean Greek culinary delights, at one of our three hotel restaurants. Our chef and his team combine the best local products, vegetables, fruit, and herbs from our gardens, inspired by traditional Greek cuisine and always in perfect harmony with our wines.
Meals are served around the Byzantine rock cistern at our award-winning restaurant Sterna (open from June-September), or you can dine under the shade of a quince tree at our tavern Linos, where delicious local dishes are simmered in the wood-fired oven (open from June-September). Try our all- day restaurant Mouries, where your senses will be awakened to the gastronomic experience of a lifetime.
During your stay at Kinsterna, start your day with a Greek feast of local dishes. Our breakfast menu showcases seasonal produce from our garden. Enjoy local dishes such as sourdough bread made on-site, local cheese traditional tsaitia pies, lalangia, trachanas, and tasty tarts prepared with fresh seasonal fruit from our garden.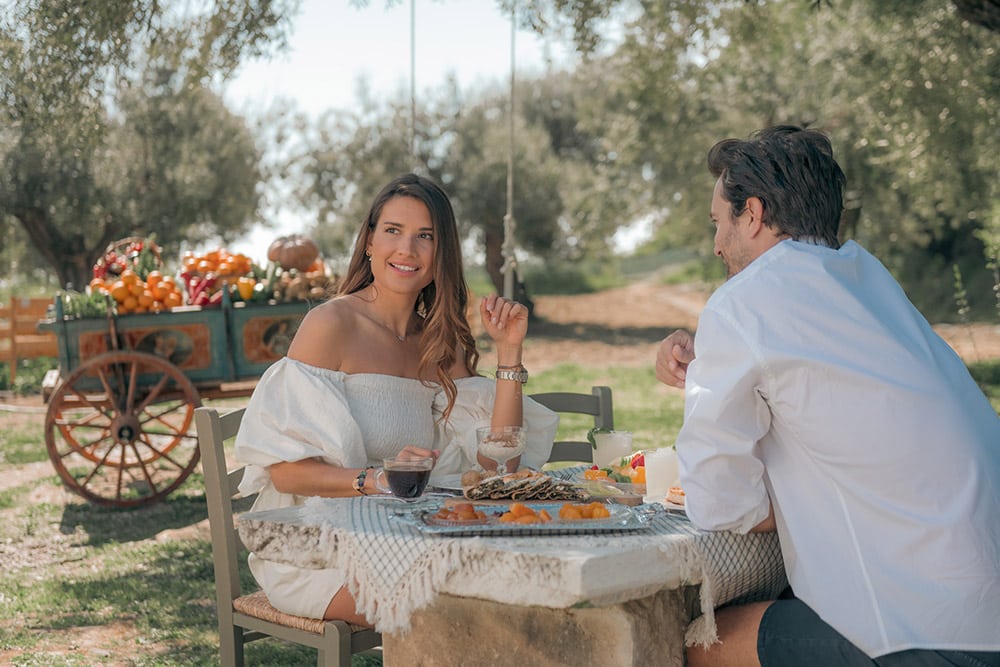 Relax, enjoy the pleasant weather and unwind at one of the hotel's swimming pools which are supplied with natural spring water. The Infinity pool has relaxation areas set by the fragrant orange grove, and there is a special pool for families with children, with a variable depth, guaranteeing safe swimming for all ages.
Take a walk through Kinsterna estate's gardens or stables, and visit our wine cellar where you can taste and learn about our local wines, including the Malvasia variety, renowned for its exceptional quality since the 14th century.
Wherever water flows you find life. Water is the dominant element at Kinsterna's Wellness Spa. Experience the healing powers of water, choose between the indoor or outdoor Jacuzzis, and the Razul & Water Paradisecabins, or try a traditional Ottoman hammam. We offer a series of therapeutic specialty massages. Treat yourself to organic treatments based on natural products from our estate. Olive oil, honey, grapes, aromatic plants, and herbs from our gardens, are used to create a range of custom – designed treatments, such as our holistic, signature face and body treatment "The Secret of Olive Oil Essences" prepared with Kinsterna's extra virgin olive oil and other natural ingredients.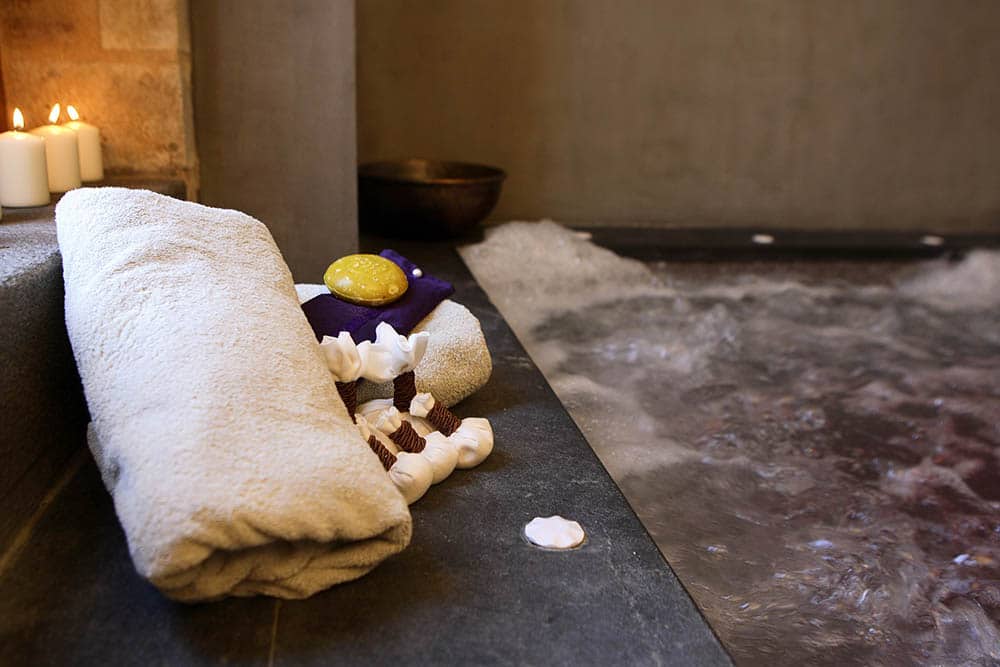 Our country-chic boutique hotel in Peloponnese offers many unique agro-activities & experiences that immerse guests in the rhythms and centuries – old local traditions of the countryside.

Get involved in:
● Beekeeping workshop
● Handmade soap workshop
● Breadmaking
● Candle Making
● Horseback riding
● Harvesting and pressing of grapes on our estate, from mid-August to mid-September.
● Harvesting of olives from our groves, from October to January.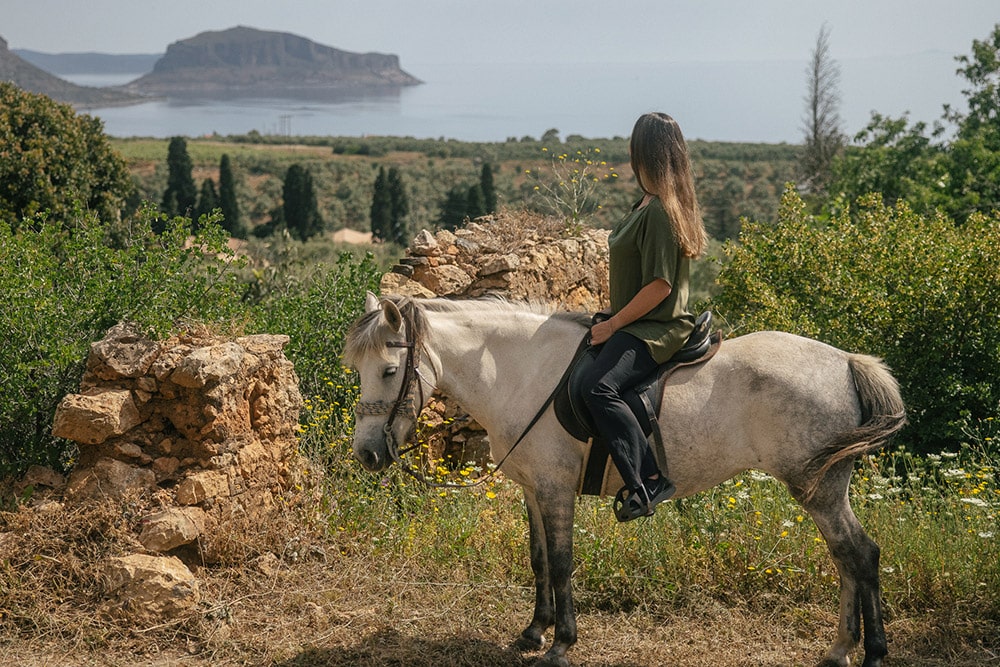 Every day promises delightful discoveries. Take in the history and beauty of the Peloponnese peninsula, home to some of Greece's most historic spots and important Byzantine churches. Spend the day at a nearby beach, such as Ampelakia, Pounta, Elafonisos, Gefiras, or Pori, or visit Monemvasia rock, a mythical and romantic Byzantine castle town that dates back to the sixth century AD., an impressive medieval fortress overlooking the Myrtoan Sea. Explore the twisting, cobbled lanes and timeless charm of this extraordinary historical landmark, dating back to medieval times.
Experience luxury in nature's embrace at our boutique hotel in Peloponnese. A stay at Kinsterna Hotel is a rejuvenating experience that revitalizes the spirit, invigorates the heart and elates the senses.