boutique hotel, kinsterna hotel
Are you dreaming of luxury agrotourism in Greece? The lingering scent of rosemary dancing in the light breeze, carrying along with it the chirps of the sparrows and the song of the cicadas? Such scenes unfold here daily, in a resplendent countryside, alive with the pulse of blooming nature and the local way of life.
For your next luxury agro-focused holiday in Greece, consider staying at a stunning 17th-century mansion, immaculately restored to preserve the charm and authenticity of the historic estate it resides in. Kinsterna Hotel is a place that transcends time, having been transformed into a 5-star historic hotel to experience luxury agrotourism in Greece.
Set in the countryside splendour of Agios Stefanos, nestled in a 25-acre estate of private gardens and overlooking the legendary castle-town of Monemvasia, Kinsterna Hotel is especially suited for adults and families who want to experience tranquility, authenticity, and well-being through holidays that bring them closer to nature.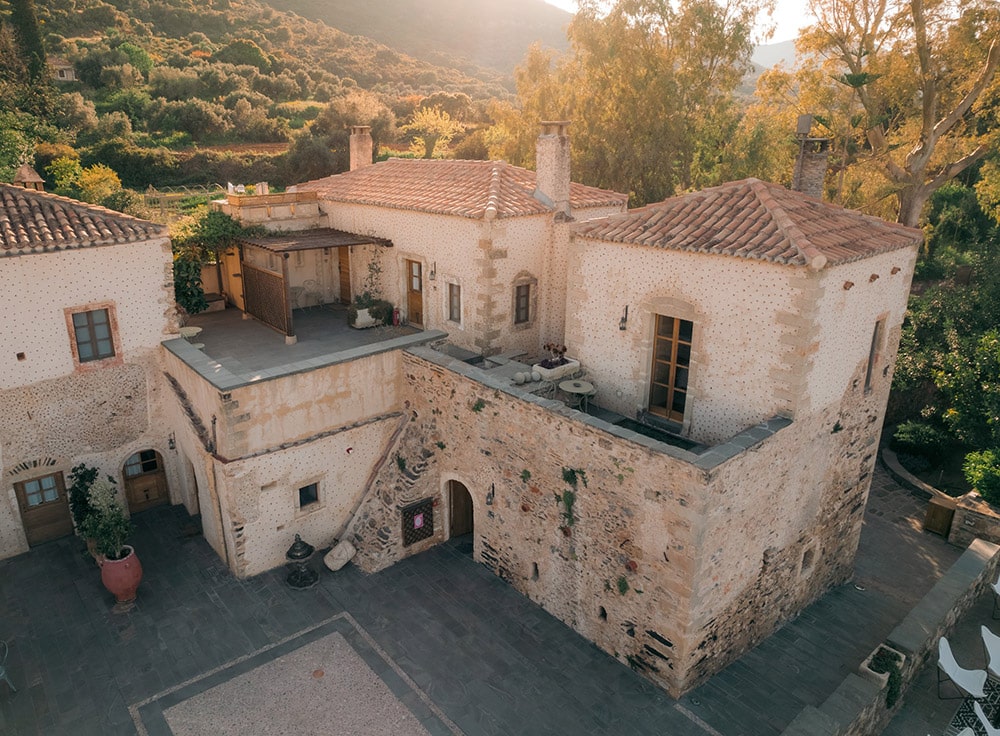 Hospitality with a Vision of Sustainability
Kinsterna Hotel combines aesthetic simplicity with the philosophy of self-sufficiency and a vision of preserving the local way of rural life. This makes it a prime example of luxury agrotourism in Greece and a luxury sustainable hotel in Greece. Our operation is done with minimal impact on the environment. Caring for and nurturing the land we live in, preserving local practices and supporting the local community are all integral parts of our ethos.

Luxury agrotourism in Greece at Kinsterna Hotel
With roots reaching across the Byzantine, Ottoman, and Venetian eras, the glorious estate is surrounded by olive groves, vineyards, citrus orchards, and fruit trees dating back to the turn of the 19th century. Taking in the natural panorama that embraces the mansion is a living testament and sentient acknowledgment that pristine landscapes still exist.
Kinsterna Hotel has shaped one of the most outstanding experiences for luxury agrotourism in Greece. There are many unique agro-activities that immerse guests in the rhythm of nature and local life, in perfect harmony with this rich and plentiful land.
Immersive experiences
Here you can experience the local culture through the prism of sustainable luxury. Reaching deep into the Peloponnesian soul, Kinsterna Hotel brings you an exciting array of curated artisan, traditional and agrarian Αctivities that have been inspired by century-old practices such as the following, among others:
Participate in the harvesting of grapes or olives on our estate, learn about the production processes of wine and olive oil and taste their exquisiteness.
Learn how to make Tsipouro, a popular Greek distilled spirit and the perfect accompaniment to a variety of tasty local delicacies served with freshly baked bread.
Gratify your passion for cooking and learn the secrets to Greek and Mediterranean gastronomy through private cooking lessons at the mansion.
Have a go at kneading traditional bread baked in a wood-fired oven. Use fragrant herbs and products from our gardens, such as oregano, olives, or raisins for a sweet variation.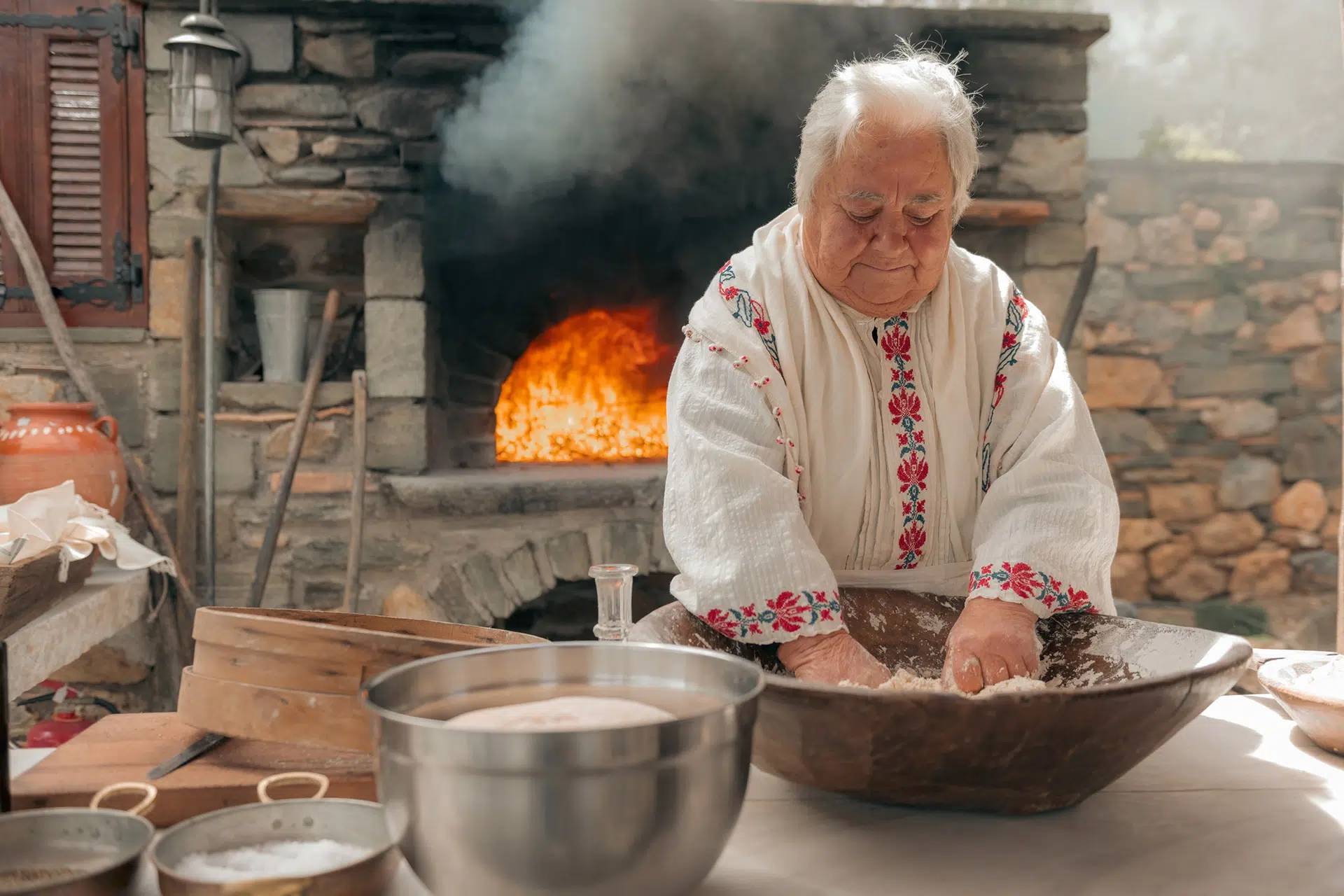 Make something to take back with you. Learn the craft of candle making and handmade soap, both traditions that are dying arts.
With over 250 species of plants, the estate is home to an apiary where guests are welcome to observe the gathering of honey or partake in beekeeping workshops at Kinsterna Beehives.
Our private wine-tasting sessions in the wine cellar or on the terrace are educational and entertaining. Sample and learn about the region's finest and oldest, including both Kinsterna wines and the acclaimed Malvasia wine plus tips on how to serve and pair with food.
Hike or cycle and discover the ruins of a fort dating back to the Hellenistic period on a hilltop directly behind the mansion. The E33 European hiking path, which connects Kinsterna and the picturesque village of Koulentia is also nearby.
You may also adopt an olive tree and actively support the growth and development of one of Greece's most iconic symbols. You will receive photo updates on its progress as well as a complimentary bottle of extra virgin olive oil, once a year.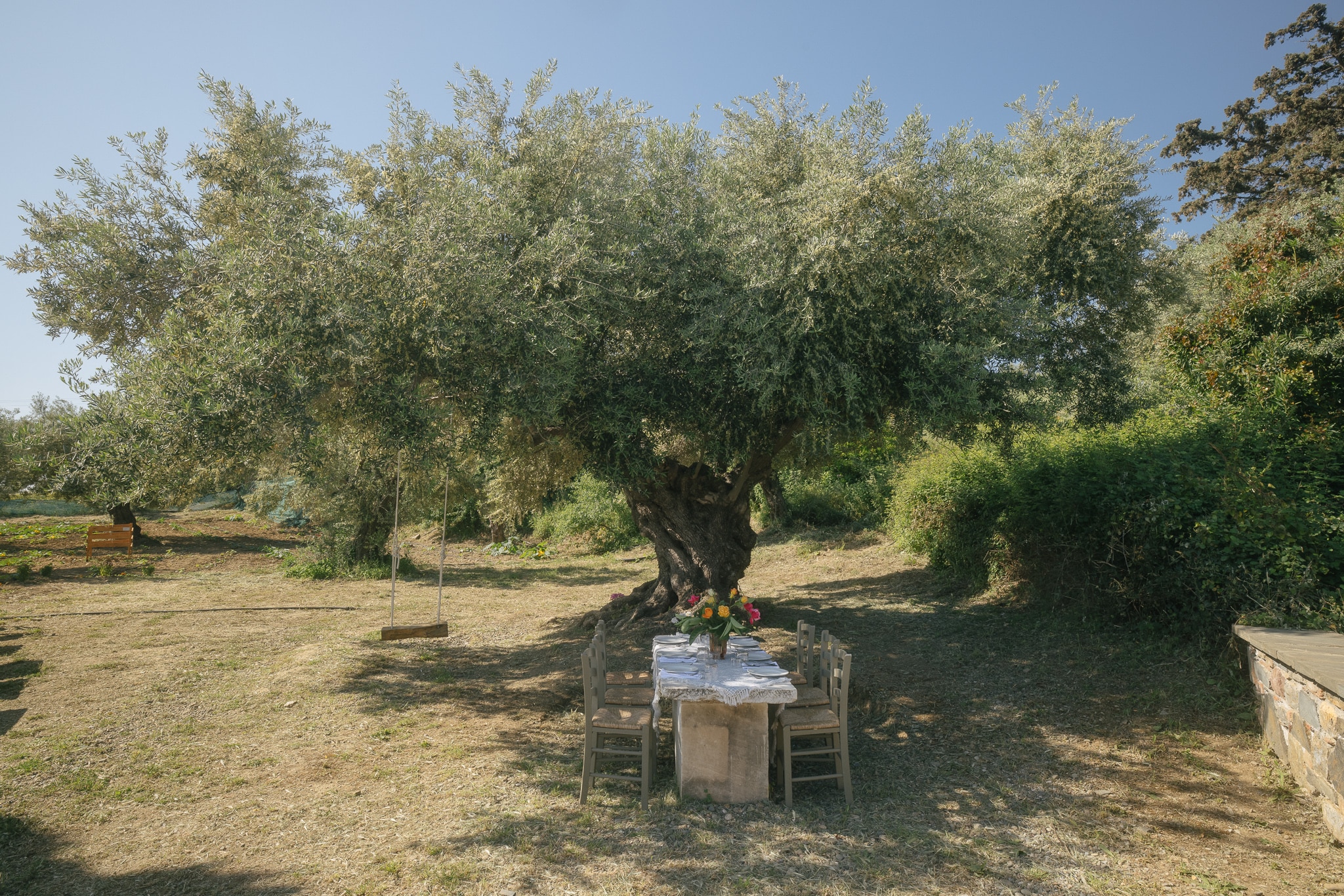 Even when it comes to experiences that require less engagement on your behalf, Kinsterna Hotel ensures there are always local elements to indulge your senses.
Indulgent experiences
A blissful holistic experience awaits at Kinsterna's Wellness Spa. It is the natural continuation of discovering the Laconian land through serenity. Guests may try organic treatments based on natural products of the estate like olive oil, honey, and grapes, accompanied by the healing power of herbs. You are invited to dive into the pleasures and bountiful properties of water; a natural spring within Kinsterna runs tills this day. A life-giving force, water dominates our facility, including indoor and outdoor Jacuzzis, Razul & Water Paradise cabins, as well as a traditional Ottoman hammam.

Working respectfully with the land, we produce our own oil, wine, and honey which you can all indulge in through our Gastronomy. Our chef and his team combine the freshest produce, such as seasonal vegetables, fruit, and herbs from our gardens, to create wholesome, delicious dishes whose common factor is culinary heritage. Guests can savour three different dining experiences at our three hotel restaurants.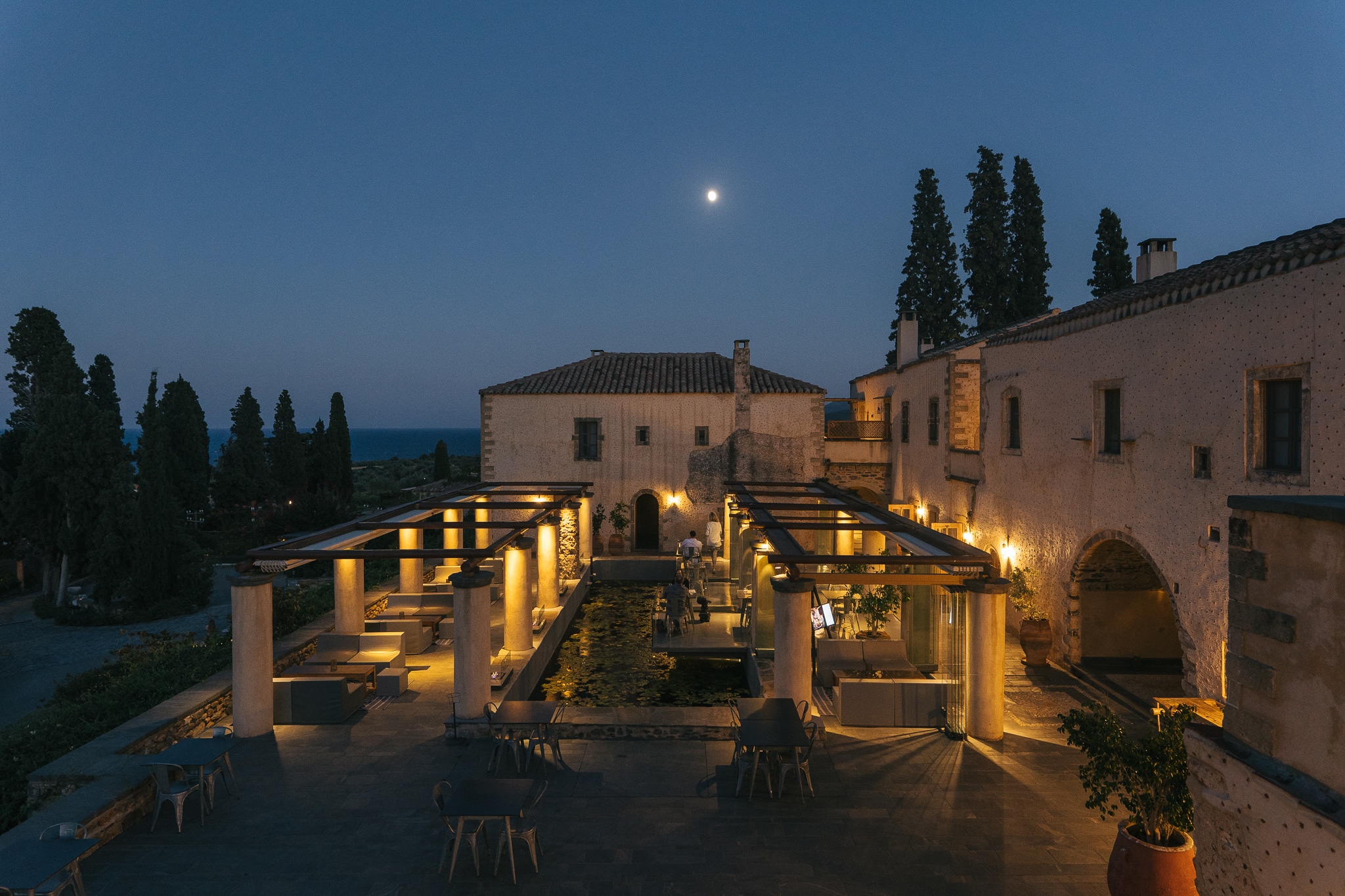 As for rest and repose, Kinsterna Hotel offers Accommodation that bridges eras. The original building's pre-existing functional spaces have been preserved, reinforcing the authentic charm that contributes to the mansion's personality and history. Antique, handcrafted "lace" tapestries on the walls, engraved headboards, wooden-beam ceilings, herringbone reed interiors, grand marble bathrooms, traditional wooden shutters and matching doors, handwoven carpets, premium linens; a harmonious symphony between old and new.
From the moment you step foot on the grounds of Kinsterna'a elegant and noble estate, you will immediately sense an unwavering connection to your surroundings as you soak in the soul-rich joys of this blessed part of the Peloponnese. From the exquisite grounds and gardens of Kinsterna Hotel to the surrounding hills, lush with Mediterranean vegetation and the enticing turquoise sea as your backdrop, you'll never want to leave. Come and experience a truly inspirational, one-of-a-kind holiday experience of luxury agrotourism in Greece and reconnect with yourself in the process.